Approximate Reading Time, 3 minutes.
I recently acquired a bit of American history and a lot of Baptist history. I am a little unsure of what I should do with it.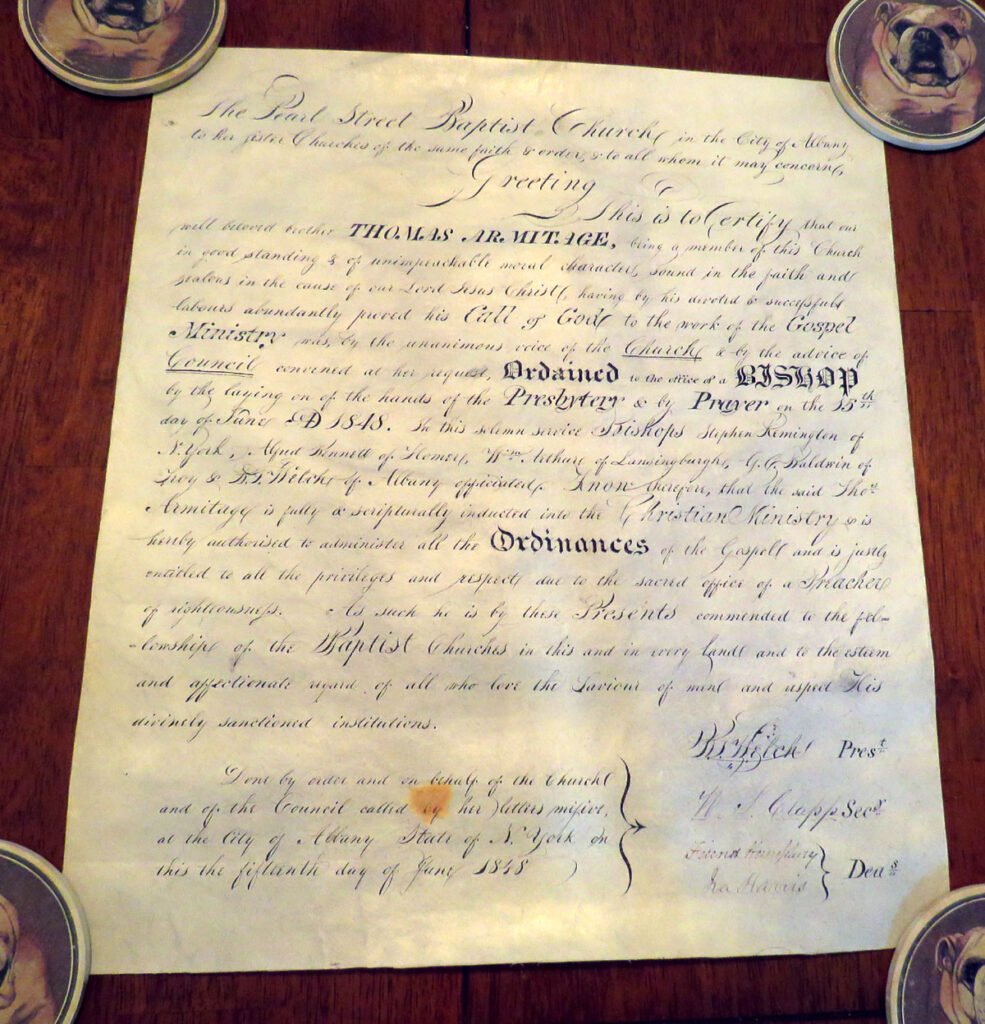 Information on Thomas Armitage DD:
Thomas Armitage served as pastor of Fifth Avenue Baptist Church New York, NY for 40 years. Fifth Ave Church was renamed to Park Avenue Baptist Church and again renamed to Riverside Church. Riverside Church | Rockefeller Brothers Fund (rbf.org)
The Riverside Church has their own repository for Riverside's institutional records and those of its predecessor churches, the Norfolk Street Baptist Church, the Fifth Avenue Baptist Church, and the Park Avenue Baptist Church. They have several artifacts pertaining to Thomas Armitage. The Riverside Church Archives is available for research by application and appointment only at 490 Riverside Drive, 9th Floor, New York, NY 10027. Riverside Church History & Archives – Riverside Church (trcnyc.org)
Thomas Armitage was also a prolific author. 27 Results | American Baptist Historical Society (mercer.edu)
Thomas Armitage is probably best known for his book, A History of the Baptists, first published in 1887. This 978 page book is a significant account of Baptist history and is still in print and popular today.
Thomas Armitage helped found the American Bible Union and also presided over it. The American Bible Union was formed in 1850 by Baptist members of the American Bible Society (ABS) who wanted the Society to produce translations that, in their view, more accurately reflected the original text.
---
Information on the document:
The document is dated June 15, 1848.
Signatures on the document include:
Bartholomew T. Welch, D.D. (1794 -1870); Pastor of Pearl Street Baptist Church, Albany New York. His father was a midshipman in the navy, and his grandfather a lieutenant. His grandfather on his mother's side was Bartholomew Trow, one of the famous patriots who threw over the tea in Boston Harbor. Welch, Bartholomew T, Dd – Biblical Cyclopedia & A Dictionary of the Doctrines, Ordinances … of … – Google Books
W. S. Clapp; Pastor of 1st Baptist Church, Albany New York (1846-1849) The History of the City of Albany, New York: – Google Books
Ira Harris (1802 –1875); Ira Harris was an American jurist and senator from New York (1850–1853). He was also a friend of Abraham Lincoln.
Ira Harris' daughter Clara Harris and his stepson/future son-in-law Henry Rathbone were the Lincolns' guests at Ford's Theatre on April 14, 1865, when the president was shot and killed by John Wilkes Booth. Booth stabbed Rathbone in the arm when he tried to stop the assassin from escaping. https://en.wikipedia.org/wiki/Ira_Harris
Friend Humphrey (1787–1854); Mayor of Albany (1843–1845) and New York State Senate (1840–1841) https://en.wikipedia.org/wiki/Friend_Humphrey
The service that presented the certificate was officiated by:
Stephen Remington (1803 -1869): From New York, he was a pastor, missionary, and author. Reasons for becoming a Baptist  HathiTrust Digital Library & Pedobaptists not open communionists : HathiTrust Digital Library
Alfred Bennett (1780-1851): He was the first Pastor of the Baptist Church, Homer, NY and Senior Agent of the American Baptist Missionary Union.
Memoir of Alfred Bennett : (archive.org)
William Arthur: Pastor of the First Baptist Church Lansingburgh N. Y. and editor of The Antiquarian and General Review, Volume 3. Father of 21st President of the United States Chester Alan Arthur.  The Lansingburgh Historical Society
G.C.Baldwin: Pastor of the First Baptist Church of Troy, NY and author. The model prayer.. : Baldwin, George C. &  Representative women from Eve, the wife of the first, to Mary, HathiTrust Digital Library & Representative men of the New Testament / by George C. Baldwin. HathiTrust Digital Library
Your comments are welcome.