Description
Approximate Reading Time, 2 minutes.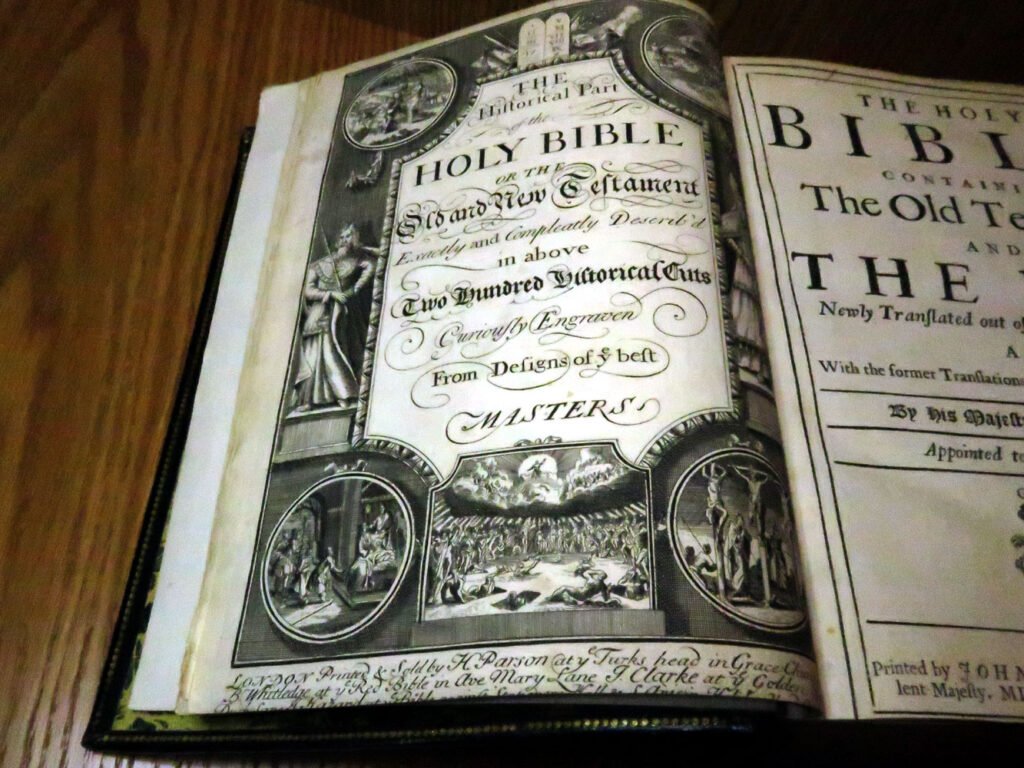 A rare example of the King James Holy Bible 1723 Old Testament, 1724 New Testament, Apocrypha, plus The Book of Common Prayer & Psalter; all bound in the same volume.
According to the title page it contains 200 cuts. I did not have time to verify or read each page but the Bible appears to be complete.
Published in 1723-24 by John Baskett.
(John Baskett (1664-1742), a man of significant influence in the world of printing. He and his supporters wanted to improve both the quality and the appearance of the Bibles being printed. The idea was to produce a folio edition of the King James Bible that would reflect the decisions made by the original translators that had somehow become lost in the intervening years. This Bible would be a presentation piece for use in churches and the homes of the aristocracy. Some of the obsolete language would be added into a glossary. It was meant to be a very special print run. To this end Baskett had new decorative initials made as well as new engraved plates. Baskett's Vinegar Bible is generally acknowledged as the most magnificent Bible printed in England. The Vinegar Bible gets its name from the most famous of the errors in the 1717 printing. The headline of Luke 20 reads, "the parable of the vinegar" (instead of vineyard).
This Bible is the corrected version.)
Family History for: Catherine Gwyllym. See photos.
Bound in an attractive contemporary black calf leather binding with raised bands and gild lines.
A solid and attractive restored period binding.
THE HOLY BIBLE, Old and New Testaments, London, John Baskett, 1723-24, quarto, title O.T.
Some repaired pages, some staining, minor marks, blemishes or reading wear else a very nice clean copy. Text clear, crisp, and easy to read, occasional toning. Apocrypha present. Bound with The Book of Common Prayer and Psalter. See all photos for condition.
Contains: Old Testament, New Testament, Apocrypha, Book of Common Prayer, & Psalter.
Dimensions: Approx. 9 1/2 inches in length x 8 inches in width x 3 1/4 inches in depth.
Shipping Weight: Approx. 8.5 pounds.
Title: The Holy Bible
Format/binding: Leather binding-Five Bands
Book condition: Used Antique – Very Good
Publisher: John Baskett
Date Published: 1723-24
Size: Quarto
---
1724 Bible Baskett